Verona is well-known for its delicious cuisine. Verona inhabitants have reached high recognition for their hospitality manners and tasty food. Nowadays, many restaurants keep traditional Veronese cuisine.
Horsemeat and polenta are the main ingredients in Veronese cuisine because its culture has been influenced by the northern Alps. Bigoli is the most popular pasta in Verona, spaghetti made of pepper bread, and bone marrow is one of the most delicious dishes.
The daily meal is usually made up of three dishes: as a starter "antipasto", main course "usually pasta" and the second one "fish or meat". There isn't a problem if you want to eat only one of them, but remember that it's a custom to pair your meal with wine. You can also eat tasty Pizzas at some restaurants. Radicchio, melons, chestnuts, and kiwi fruit are frequently used in menus.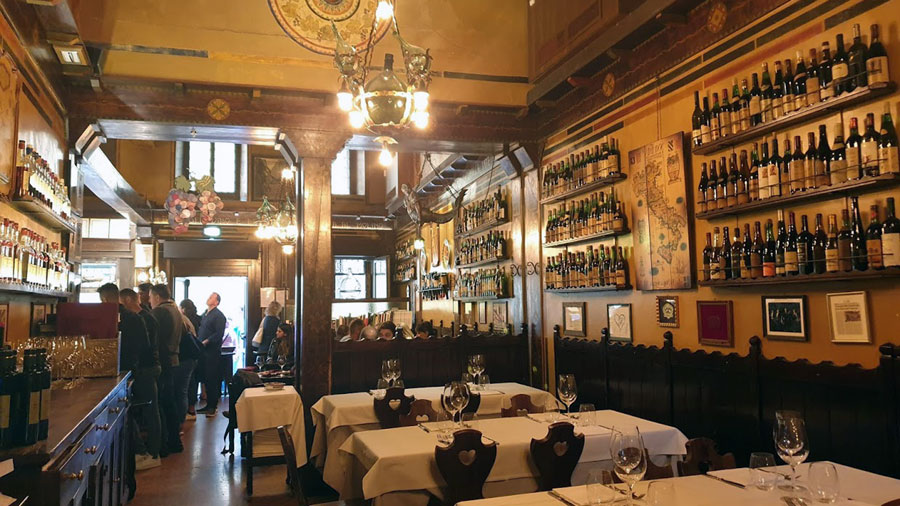 Some Restaurants and Bars in Verona:
Arena:

 Vicolo Tre Marchetti 1. You should visit this Pizzeria that opens until 1:00 am. This restaurant is located in a small alley between Via Anfiteatro and Via Mazzini. It's closed on Mondays.
Bella Napoli:

 via Marconi 14. If you want to eat the best Pizzas of this city, you definitely have to go to Bella Napoli. It's closed on Mondays.
Trattoria da Barca:

 Vicolo Tre Marchette 19b. Near the Arena, this Pizzeria is the best place to have a good time with friends because it's very classic and warm ambiance. It's closed on Sundays. (Tel: 045.803.0463).
Bottega dei Vini:

 Vicolo Scudo di Francia 3a. Since 1982 this Bottega has been offering the best-selected wines of Italy. Although this site is small, with only 20 tables in one room, it's always full of tourists. It opens until midnight and is closed on Tuesdays.
Maffei:

 Piazza dell' Erbe 38. – Near to Baroque palazzo, you can taste delicacies there at affordable prices. It's closed July & Aug, plus Sundays (and Mondays in winter). For further information: Tel 045.801.015.
Osteria La Fontanina:

 Piazzetta Fontanina. Near to the Adige River, this restaurant since 1984 has been a culinary institution in Verona. It provides a very comfortable and warm ambiance and delicious fish and meat dishes.
Osteria Perbacco:

 Via Carducci 48. This restaurant is a place specialized in vegetarian dishes and fish courses at affordable prices. It's closed on Wednesdays.
Osteria alla Pigna:

 Via Pigna 4. Restaurant located in the historical center between the Duomo and Piazza dell' Erbe. Thanks to its delicious courses, it's in the top five best osteria of Verona. It's closed on Sundays & Mondays lunch.
Pero d'Oro:

 Via Ponte Pignolo 25. This trattoria keeps the familiar tradition of making Veronese pasta. It's closed on Mondays.
San Giovanni in Foro:

 Corte San Giovanni in Foro 4. You can enjoy of the most delicious pizzas viewing the courtyard near from Corso Porta Borsari. It's closed on Tuesdays.
Al Carro Armato:

 Vicolo Gatto 2a. A perfect place to get together with your friends, it is one of the most popular bars in Verona. It's open until 2:00 am and is closed on Wednesdays.
Caffe dell' Erbe:

 Piazza dell' Erbe 32. This bar —also known as Mazzanti— is very frequented by young people, there they can listen to good music and drink traditional Veronese beverages.
Al Mascaron:

 Piazza San Zeno 16. It's a popular disco-bar for young people; it provides delicious wines, local food, and a lively urban ambiance. It's closed on Mondays.
Osteria al Duomo:

 Via Duomo 7a. Renovated in the last century, this is the best bar of the entire Verona. It provides funny afternoons on Wednesdays (5-8 pm) and shows of traditional music at nights on Fridays. It's open from 4:00 pm until midnight. It's closed on Thursdays.
Osteria al Vino:

 Via Sottoriva 9. The most authentic osterie of Verona, it's always visited by locals and foreigners.
Al Ponte:

 Via Ponte Pietra. Here you can enjoy drinking a good glass of wine while you see the Ponte Pietra and the Roman Theater. It's open until 3:00 am and is closed on Wednesdays.
Ai Preti:

 Via Acqua Morta 27. This osterie is very popular in Verona because it provides cheap wines, delicious dishes, and music. It's open until 8 pm.
Page Under Revision
This page is under review and updating. Sorry for the inconvenience.
If you don't find the information you were looking for, do not hesitate to contact us. We are more than happy to assist you.
Or fill in the form below to get our updated travel tips.