Would you like to learn the Authentic Italian Pizza Recipe from real Italians? You've come to the right place.
In the last weeks, when the whole world is forced to stay at home, purchases of flour and yeast have increased exponentially, especially in Italy.
Why?
Because real Italians love to make homemade Pizza. And now we have more time than ever to dedicate ourselves to this simple and very satisfying activity.
Authentic Italian Pizza Recipe – Where to Start From
The authentic Italian Pizza will taste better than ever.
We want to teach you everything you need to know to make a real homemade Italian pizza.
The Authentic Italian Pizza Recipe is fast and very simple. You have to take into account that the pizza dough will have to rise for a few hours. So it has to be prepared in advance, possibly even the day before.
Here we will tell you how to make the basic recipe for the typical Pizza Margherita. This Pizza is the starting point to make all your favorite pizzas. To the Pizza Margherita, you can then add ham, olives, sausage, anchovies, artichokes, mushrooms, potatoes, zucchini, in short, all the ingredients you like best.
Once you've learned the Authentic Italian Pizza Recipe and discovered how quick and easy it is to make it, it will become your favorite pastime for the next days and weekends.
And don't forget that homemade Pizza is also much healthier!
Homemade Italian Pizza – The ingredients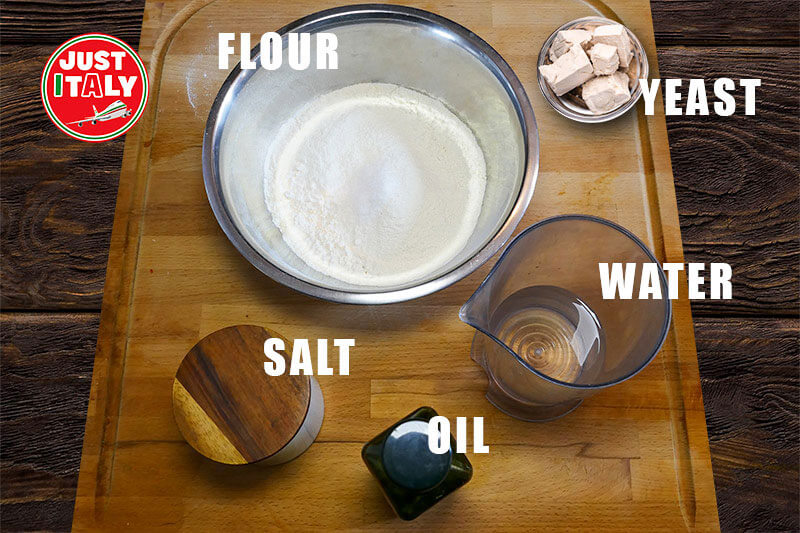 Ingredients for the dough
With these doses, you will get 850 g / 30 oz of dough (about 3 pizzas of 28-30 cm in diameter)
Flour: 500 g / 18 oz of flour 00
Water: 350 ml / 12 fl oz of bottled natural mineral water at room temperature
Yeast: brewer's yeast: 7 g / 0.25 oz of fresh yeast (or 3 g / 0.11 oz of dehydrated yeast) – If you prefer not to use yeast, you can alternatively use a teaspoon of baking soda and one of vinegar, preferably apple cider vinegar.
Oil: 10 g / 0.35 oz of extra virgin olive oil
Salt: 8 g / 0.3 oz of salt
Mozzarella cheese: 350 g or 12/13 oz
Tomato sauce: 450 g or 16 oz
Oil: Extra virgin olive oil as needed
Authentic Italian Pizza – The Perfect Dough
Now, the first thing to do is to prepare the dough.
Put the sifted flour in a bowl.
Add the brewer's yeast, finely crumbled.
Mix using a wooden spoon.
Add the water gradually, while you continue stirring until the flour absorbs it completely.
Add salt and extra virgin olive oil.
Keep stirring.
To obtain a smooth and homogeneous dough, now we can also knead by hand for a couple of minutes.
Then we put the dough back into the bowl and cover it with a sheet of transparent film.
The dough must rise for at least 30 minutes at room temperature and in a place sheltered from currents.
The leavening must take place at a temperature of about 25 degrees.
Homemade Pizza Baking Time and Temperature
After leavening, we can roll out the Pizza in the baking pan. Before that, you should grease the baking pan with a little olive oil.
It is always better to roll out the Pizza by hand and not with a rolling pin. The result will be softer!
Depending on the size of your baking tray, you can divide the dough into several baking trays.
Add the tomato sauce (seasoned with salt, oil, and oregano to taste) and put in the oven at 200/220 degrees celsius (around 450 Fahrenheit degrees) for about 10/15 minutes.
Remove from the oven and add the diced mozzarella.
Bake for another 10/15 minutes (until the mozzarella is well melted but not burned!).
At this stage, you can also add other ingredients at your convenience, ham, anchovies, capers, pepperoni, whatever you like!
Now you can take it out of the oven and enjoy your first real homemade Italian Pizza! 
Buon appetito!!!
Any Doubt? Enjoy Homemade Pizza Live Class!
PROS
It's a live class!
You will be able to seek advice directly from two experienced Italian chefs and ask them, live, all your most pressing questions. They will spend time in conversation with everyone online and be happy to clarify all your doubts.
You will be able to talk to other participants from all over the world and.
You will receive a $25 gift voucher, which you can use to book any Walks tour all around the world, valid for 2 years!!!
You will learn the Authentic Italian Pizza Recipe and will be able to cook a perfect homemade Italian Pizza
CONS
No cons!
Homemade Pizza is also healthier, and if you are worried about your figure and weight, you can make it with whole wheat flour or without mozzarella!
Disclosure: Please note that we may use display advertising, and affiliate links to operate this site, and at no additional cost to you, we may earn a commission if you make a purchase. We recommend only products and services we know and the income allows us to keep the site updated and free of charge. Please review our Terms and Conditions and Privacy Policy for more information.