Romanesque Architecture had influences from Byzantine buildings and Roman Architecture, developed from 1000-1200 A.D.. Till that time, people did not devote themselves to construction or arts, because of wars, poverty and famine. Still, when calm returned, by 1000 A.D. they began to construct and developed the new style across the continent.
Most buildings were built using stone and wood sometimes, they took the round arches and the columns from Roman Architecture, they didn't use many windows in a church, which is why churches were dark inside.
Romanesque buildings such as San Miniato al Monte, Duomo and San Francesco in Italy had religious ground. Usually, they had a Latin cross plan, the facades were symmetrical, with a large central portal and a single central ocular window.
Another feature in Romanesque architecture is the use of a Church Tower. It could be of different shapes: squared, circular or octagonal, and sometimes free-standing like the most famous, the Tower of Pisa.
Romanesque architecture spread almost around the whole continent due to its use in ecclesiastical buildings.
Fond of Italian

Architecture?
Take a Virtual Tour Now!
Immerse yourself in the most significant places in our history.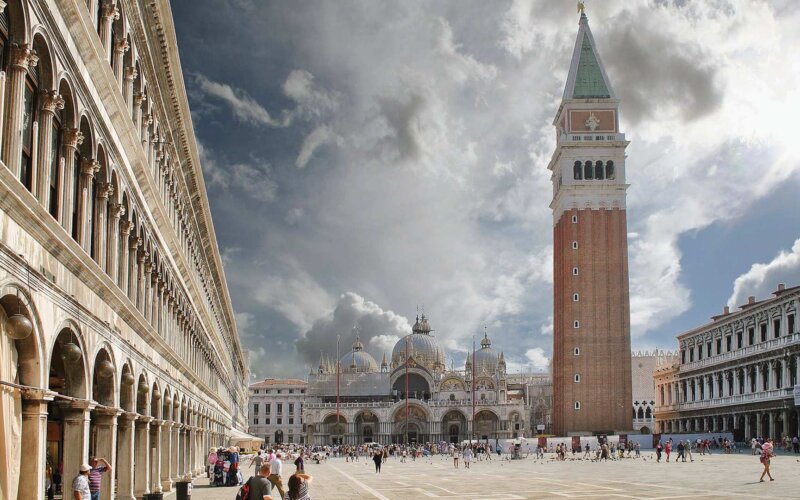 CHOOSE NOW YOUR FIRST ITALIAN ARCHITECTURE VIRTUAL TOUR
ROME - The Colosseum, Beasts & Gladiatorial Games
ROME - Imperial Forum Full Immersion
ROME - Rise and Fall
VENICE - Journey into St. Mark's Basilica, the Venetian Gem
VENICE - Once-in-a-lifetime Virtual Toure
MILAN - Duomo Cathedral and City Center Tour
FLORENCE - The Heart of Renaissance Florence: Duomo and Baptistery
FLORENCE - Highlights of the Uffizi Gallery
POMPEII - The City Frozen in Time
POMPEII - Discover Pompeii Hidden History with a Local
HERCULANEUM - Ancient Rome
SICILY - The Heart of Palermo
SICILY - Syracuse Virtual Tour
Read more on Italian Architecture.
Page Under Revision
This page is under review and updating. Sorry for the inconvenience.
If you don't find the information you were looking for, do not hesitate to contact us. We are more than happy to assist you.
Or fill in the form below to get our updated travel tips.